THIS PAGE WAS LAST UPDATED 4th Aug 8.00 a.m.
(Please note that because things are still not normal this homepage along with the page for Prayer and Reflection are the only pages being updated on this site at the moment. All current information you require is on this page.)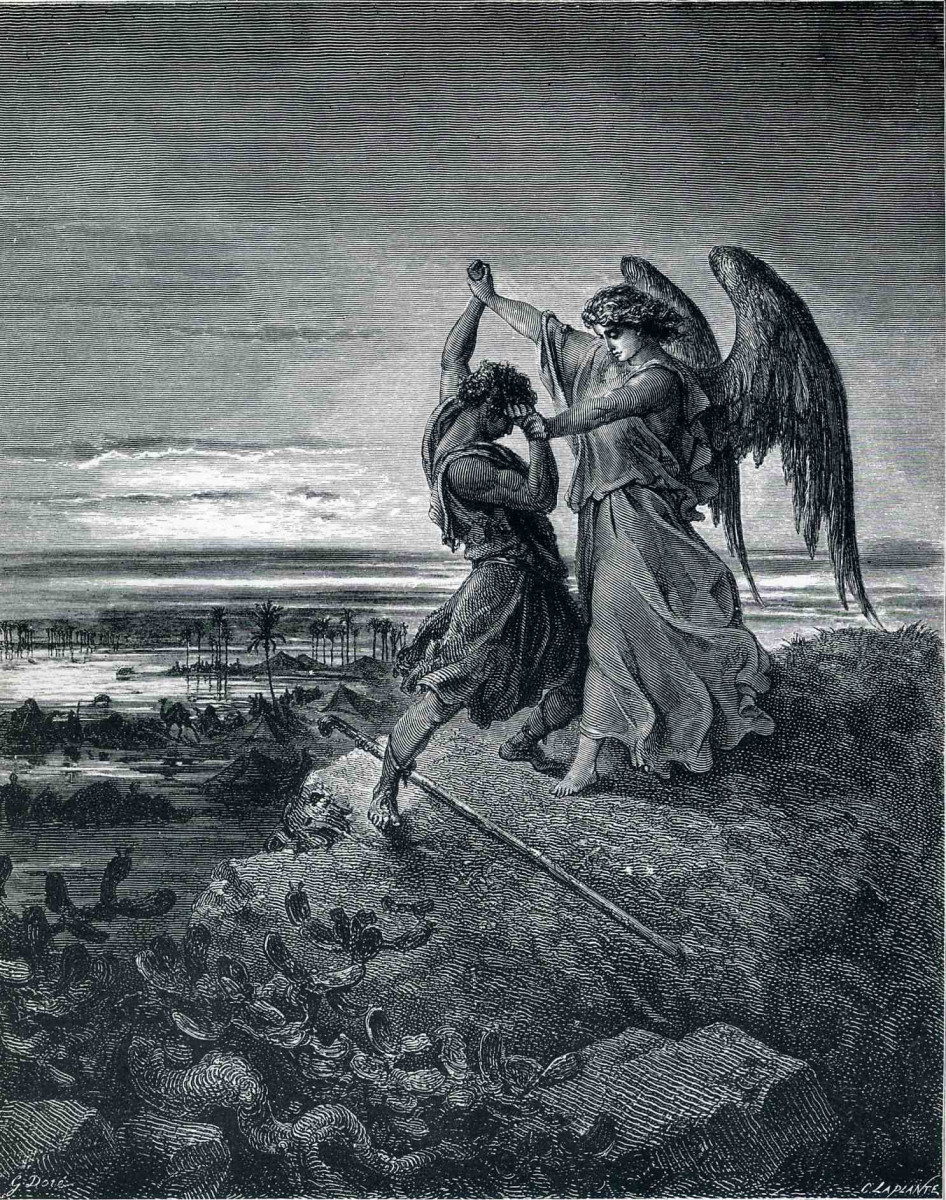 Dear God, help me. You know what I crave. You know my struggles. I call out to You. You have all the answers on how to be free. Cleanse my thoughts, cleanse my body, and renew my mind. Guide me through this valley to a place of victory. In Jesus name I pray. Amen.
(Picture from Gustav Dore)
Quote of the day, Tuesday 4th August
" Difference is the essence of humanity. Difference is an accident of birth, and it should therefore never be the source of hatred or conflict. Therein lies a most fundamental principle of peace: respect for diversity." - John Hume
## PLEASE READ THIS IMPORTANT UPDATE ## Brian has written to detail the when and how of our churches re-opening. It gives dates and times and some details of the format of services. You can read the letter here and the main points are reproduced below.
RE-OPENING DETAILS FOR OUR CHURCH BUILDINGS
ST GORAN: Services of Holy Communion have started up again on each Sunday at 10.15 a.m. These will be based on Common Worship. There will currently be no service in Church on a Wednesday morning but there will still be a service using ZOOM. Invite details can be obtained from Brian.
The church will be open for private prayer on each Sunday and Wednesday between 10.00 a.m. and 2.00 p.m.
ST JUST: The church is open for private prayer on each Monday and Thursday between 10.00 a.m. and 2.00 p.m. The church remains closed for public worship for the moment.
ST MICHAEL CAERHAYS: The church remains CLOSED for the time being.
All these opening times will be under constant review. Please see Brian's letter for further details here
PLEASE NOTE COVID SAFETY PROCEEDURES WILL BE IN PLACE DURING ALL
OPENINGS OF OUR CHURCHES.
Please also see below are various sources for prayer and an order of service to follow for Sunday August 2nd if you are not able to attend church.
Service for Sunday 2nd August, Eighth Sunday after Trinity: CLICK HERE Tell out my soul Be Thou my Vision
Reflection for Sunday 2nd August: Wrestling
Reflections from Brian: Fibs and falsehoods Wheat and weeds
Reflections from Ruth July 29th
Link to our Prayer and Reflection page CLICK HERE
Link to Church of England prayers for use during the pandemic CLICK HERE
Please continue to read the urgent updates from the Diocese and other important messages and useful internet links on COVID 19 on this homepage that have been updated on the 31st July.
Brian is available at his desk most weekday mornings if you need to contact him and at weekends in emergency situations: (01726 430857) E-MAIL: revmcq@gmail.com
USEFUL LINKS DURING THE CORONAVIRUS PANDEMIC
LATEST GOVERNMENT CORONAVIRUS UPDATE AND GUIDANCE FOR CHURCHES June 12th
BBC LATEST NEWS CLICK HERE
BRIAN'S UPDATES Churches' re-opening Churches re-opening 2 July 10th
NHS 111 ON-LINE CLICK HERE
NHS111 CORONAVIRUS PAGE CLICK HERE
CORNWALL COUNCIL CORONAVIRUS PAGE (Gives links and contacts for many issues) CLICK HERE
CORONAVIRUS PAGE ON THE CHURCH OF ENGLAND WEBSITE - CLICK HERE
COVID 19 PAGE OF DIOCESE OF TRURO WEBSITE CLICK HERE
GORRAN HAVEN WEB SITE FOR LOCAL UPDATES CLICK HERE
THE HAVEN CHIP SHOP MENU, OPEN EVERY DAY (Midday - 9.00 p.m.) (01726 843555) CLICK HERE
LOCAL UPDATES FROM MICHAEL BUNNEY August 3rd
IF ANY PARISH RESIDENT REQUIRES HELP DURING THE CURRENT CORONAVIRUS PANDEMIC PLEASE EMAIL
stgorranpc@btinternet.com OR michaelbunney84@gmail.com
OR PHONE OR TEXT MICHAEL BUNNEY 07939457590
DIOCESE OF TRURO
GUIDANCE ON RESPONDING TO THE CHALLENGES POSED BY THE CORONAVIRUS OUTBREAK
LATEST CORONAVIRUS UPDATES ON 31.07.20
Dear friends
As you might have heard on the news, at a press conference earlier today the Prime Minister announced plans to make face coverings mandatory in places of worship from August 8 - a week tomorrow.
The Government has also withdrawn guidance to permit indoor professional performances with immediate effect.
Colleagues with the national church will study detailed government regulations and guidance once they are available and will then update our own guidance accordingly. The Recovery Group will meet early next week to progress this.
In the meantime, we continue to strongly advise that face coverings should be worn by all those attending a place of worship, including ministers, worshippers, staff, volunteers, contractors and visitors, where there may be other people present; remembering that they are mainly intended to protect other people, not the wearer, from coronavirus (COVID-19) and that they are not a replacement for physical distancing and regular hand washing.
There is also a new FAQ on the national church's Covid-19 guidance page here entitled 'What are the first steps to take if we believe there has been a local breakout'. That currently links through to Public Health England guidance, here.
As soon as we have more news for you, we will of course be in touch.
Our Sunday morning all-age worship is continuing on the Truro Diocese Facebook page. This week Charlotte and Steve Irwin will lead the event, starting at 9.30am. Charlotte said: "We're going on a picnic this Sunday. Come along, no food required, just bring two twist ties, some washing up liquid and a small container of water. What on earth can we make from such ordinary things?" You'll have to join them live at 9.30, or catch up later on Facebook, to find out!
If you have colleagues who are on this distribution list but who do not have email, I would be grateful if you could please let them know the latest.
Keep safe everybody!
With all best wishes,
Richard
Richard Best
Communications Adviser
–––––––––––––––––––––––––––––––––––––––––––––––––––––––––––––
Remember
Pray for those who are unwell.

If you think you might have coronavirus, contact NHS 111 for help and advice.

Use tissues for coughs and sneezes, and bin them right away.

Wash your hands a lot.
On this site you can find information on the following:-
Events

Services

Weekly Notice sheet -

Weekly notices and Dates for your Diary

Your Churches and You - How you can use the Church for your special occasions, Christenings, weddings, funerals. Includes instructions on booking the West End rooms at St Goran for any events.

Calendar

Church News - News in and around the churches

Parish Nurse - What a Parish Nurse does and how she can help you.

Church Groups - A section on regular group meetings within the church including a section on "The Friends of St Goran, St Just, and St Michael, Caerhays" with details on how you can become a Friend.

Time for prayer - a time for your reflection

Church Documentation - Documents held by the church that you can read or download.

How to contact us - including active maps of where we are

Our Churches' Histories - A brief history of each of our beautiful buildings

Other features including photo galleries of each of our churches and some events.
Just click on the appropriate tab and help us to help you.
#######################################################################################################################
Safeguarding statement
Ensuring that children and young people as well as adults are kept safe whilst in our care is an integral part of our church life. If you have any concerns about safeguarding please contact:
In the Parish: Graham Downes, Parish Safeguarding Co-ordinator, Tel contact – 01726 842423
In the Diocese: Sarah Acraman Diocesan Safeguarding Adviser, 01872 274351
Out of Hours for after 5pm and weekends: 01208 251300
In emergency situation:
Local Authority Children's Social Care: 0300 123 1116
Local Authority Adult's Social Care: 0300 1234131
#####################################################################################################################################
Privacy statement
Any personal data held by the Church is treated with respect and is valued. We comply with UK Personal data law. If you want to see our Privacy Policy then please click the link below:-
Privacy Policy
Data Breach Procedure