THIS PAGE WAS LAST UPDATED 13th August at 5.00 p.m.
Please note that because things are still uncertain this homepage along with the page for Prayer and Reflection are the only pages being updated on this site at the moment. But the current service schedule page for our churches has been updated here. Services.
LATEST UPDATES (most recent highlighted in black)
Added "Church at home" service for 9th after Trinity (see below)
Forthcoming events added
-----------------------------------------------------------------------------------------------------------------------------------------------
FORTHCOMING EVENTS
Wednesday 17th August, 2.00 p.m. - 5.00 p.m: CREAM TEAS at St Goran church, home made scone (GF available) jam and clotted cream, with tea or coffee for just £4. Free second cup and squash for children. Cash only please, home made cakes for sale. Proceeds in aid of Flower Festival.
Saturday 20th August, 7.00 p.m: Concert by the Rhos Kuer Choir at St Michael's Caerhays. Entry fee will be on a donation basis on the night with proceeds going to the church funds.
Friday September 16th - Sunday September 18th, 10.00 a.m. - 5.00 p.m.
Flower Festival and fair at St Goran.
" Caring today for a healthy tomorrow." - proceeds in aid of our Parish Nurse.
Friday and Saturday:- Cakes and Plant stalls, Children's games, pasties, teas, coffee, soft drinks in the old School rooms
Saturday:- Bellringing, Ukelele, organ music with a concert at 7.00 p.m. by the Pelynt Male Choir.
Sunday:- Family Praise at 10.15 a.m.
---------------------------------------------------------------------------------------------------------------------------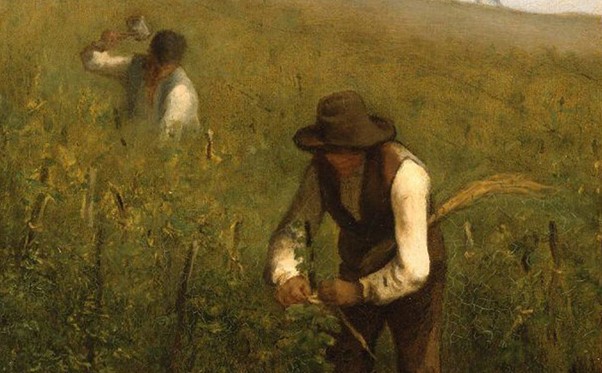 Picture: The Vineyard - Francois Millet
Teach us to be people of peace; those who remain still and calm throughout the turbulent storms of life. Nourish our natural tendency to serve Your will as we seek to stand erect and balanced upon a mental and spiritual foundation where love, peace and understanding radiates internally and externally for those in our presence. O Lord, hear our prayer for patience and perseverance in all situations.
Quote for the week
" Fall seven times and stand up eight." - Japanese Proverb
Services at St Goran church are currently a service of Holy Communion on each Sunday starting at 10.15 a.m. and also one on each Wednesday, again starting at 10.15 a.m. There is also a Holy Communion service at St Michael's Caerhays at 10.00 a.m. on the second Sunday of the month, and an Evensong at 6.00 p.m. on the first Sunday of each month. Please see the services page. (CLICK HERE)
All our churches are open for private prayer during the day and for all times the church is open we request that people are mindful of others in the use of hand sanitiser, social distancing and mask wearing.
There are also pages for reflection on this website, as well as other links for use during the pandemic below.
LINK TO PARISH NURSE SARAH'S FACEBOOK PAGE (You will need a facebook account to read) CLICK HERE
On this site you can find information on the following:-
Events

Services

Weekly Notice sheet -

Weekly notices and Dates for your Diary

Your Churches and You - How you can use the Church for your special occasions, Christenings, weddings, funerals. Includes instructions on booking the West End rooms at St Goran for any events.

Calendar

Church News - News in and around the churches

"On the Way" - Details of new Diocesan Initiative

Parish Nurse - What a Parish Nurse does and how she can help you.

Church Groups - A section on regular group meetings within the church including a section on "The Friends of St Goran, St Just, and St Michael, Caerhays" with details on how you can become a Friend.

Time for prayer - a time for your reflection

Church Documentation - Documents held by the church that you can read or download.

How to contact us - including active maps of where we are

Our Churches' Histories - A brief history of each of our beautiful buildings

Other features including photo galleries of each of our churches and some events.

Links - Useful Links to both church related and community related links.
Just click on the appropriate tab and help us to help you.
#######################################################################################################################
Safeguarding statement
Ensuring that children and young people as well as adults are kept safe whilst in our care is an integral part of our church life. If you have any concerns about safeguarding please contact:
In the Parish: Graham Downes, Parish Safeguarding Co-ordinator, Tel contact – 01726 842423
In the Diocese: Sarah Acraman Diocesan Safeguarding Adviser, 01872 274351
Out of Hours for after 5pm and weekends: 01208 251300
Diocese Safeguarding Policy and Strategy Plan
In emergency situation:
Local Authority Children's Social Care: 0300 123 1116
Local Authority Adult's Social Care: 0300 1234131
#####################################################################################################################################
Privacy statement
Any personal data held by the Church is treated with respect and is valued. We comply with UK Personal data law. If you want to see our Privacy Policy then please click the link below:-
Data Privacy Policy Data Breach Procedure